Integrated Fleet Maintenance
Track, analyze and
improve your fleet operations.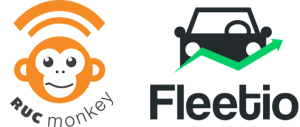 Description
Fleetio Manage is a complete system of record for your fleet, helping companies manage vehicles, equipment, maintenance, fuel and more with ease. Fleetio offers simple and comprehensive management of all day-to-day fleet operations, including maintenance management, fuel tracking, and parts and inventory data. Fleetio supports fuel card integrations from many of the leading providers as well as a RUC Monkey integration. Every account comes with all-inclusive support, unlimited account users and online and mobile accessibility, including native apps like Fleetio Go. Fleets of all sizes can manage assets, maintenance, drivers, fuel and more in a modern system with Fleetio.
Fleetio's integration with RUC Monkey provides users with seamless navigation between systems, automatic odometer updates, the ability to see a vehicle's current location within Fleetio, fault code management and fuel location exception reporting.
Features & Benefits
Store comprehensive vehicle information, stats, documents and photos
Set alerts for scheduled maintenance, license renewals and inspections
Report vehicle problems from anywhere and monitor repair progress
Conduct inspections from an intuitive mobile app and manage issues end-to-end
Document vehicle service, expenses and receipts
Manage your shop with parts and work orders
Manage driver details, vehicle assignments and history
Analyze your exact operating costs per vehicle
Automatically calculate fuel efficiency for your vehicles
Automatically import data from your fuel cards
Get unlimited users and customize roles with flexible permissions
Manage your fleet from anywhere using your phone or tablet
Get seamless integration with RUC Monkey:
Automatic odometer readings
Simple navigation between systems
Current vehicle location in Fleetio
Fault code management
Fuel location exception reporting